The Chic Ride - 2h by convertible jeep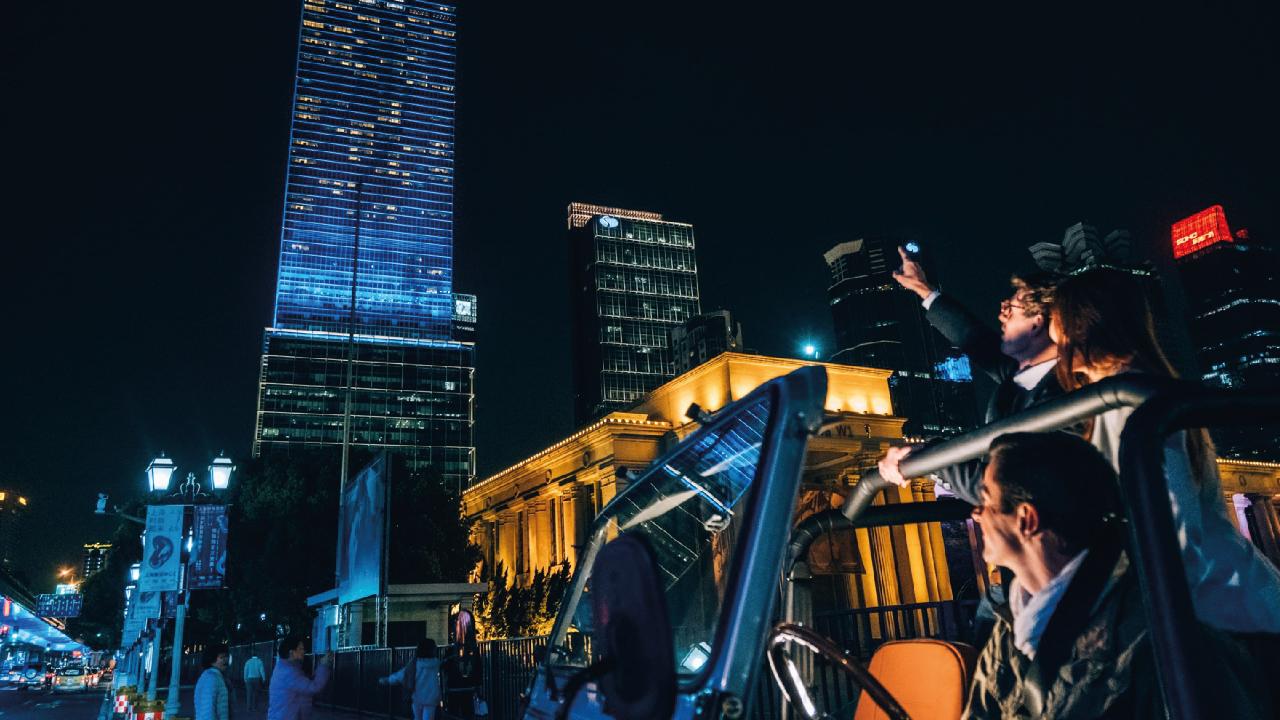 Duration: 2 Hours (approx.)
EACH JEEP CAN WELCOME UP TO 4 PASSENGERS.
Indulge in a glamorous evening ride in a private convertible jeep. Start with the quaint atmosphere of the Former French Concession and the enchanting lightning roofs of the Jing'an Temple, go on with the living heritage of the former international concessions while driving on People's square and Nanjing Road. Make a hook at the quiet Suzhou Creek to make a toast to this unforgettable evening with a glass of sparkling wine before going on an impressive drive down the Bund to enjoy both sides of the river with the fascinating Pudong skyline facing 1930s buildings. End your night on the world-known "must seen by night" Huai hai road

-----------
In the heart of Shanghai's Former French Concession, your insider meets you in a relaxed and minimally stylish café, the "Bitter". After a quick safety brief, make yourself comfortable in our convertible jeep and get ready for a magical night show.
Ride under a leafy archway of plane trees in the French Concession, admire French style mansions and drive trough these lively backstreets to relive the atmosphere of "Paris de l'Orient".


Striking contrasts and a riot of colours await as you enter the famous Nanjing Road and its flood of dazzling modern ads and neon lights. It's one of the best place to get a bit snap-happy and immortalise your evening fun.

As you reach the Huangpu river, cross the bridge over the Suzhou Creek and catch a glimpse of the Pudong Skyline before opening a bottle of champagne on the Waibaidu bridge, a silent witness of the prolific history of the Bund.

Drive down this famous row of iconic colonial-era buildings and get hooked by the magnificent Pudong Skyline (also known as "Lujiazui Skyline") on the left side and a stream of colonial buildings of different architectural styles including Gothic, Baroc and Renaissance on the other side.

The former "Avenue Joffre" also known as Huaihai road, one of the most upscale shopping streets in the city, is also not to be missed on your way back to the Former French Concession.

Your insider will take you back to the Bitter Café or any other place in the Former French Concession.

NB: This itinerary is subject to change due to passenger's requests, holidays or weather conditions.
-----------
Your ride is tailor-made, off the beaten path and designed according to your level of knowledge of the area and your centers of interests, respectful of the local culture and all inclusive to offer you a memorable experience. Custom rides and multi-day expeditions are also available in China and in Morocco.


CONTACT US If you are trying to book a last minute ride within 24 hours or if you have any questions and just prefer talking to someone. You can email us or you can reach us at +86 138 1761 6975.

-----------
DRIVING
Just follow the lead of your Insider, as he will drive you through the city non-stop and serve you a glass of bubbles. Our convertible jeeps can seat up to 4 passengers from 2 to 99 years old, but for optimal comfort we recommend 3 passengers per jeep.
MEETING POINT
STANDARD MEETING POINT : Our rides start from the Bitter Café in the Former French Concession (Wuyuan Road 58).
CUSTOM MEETING POINT : Click on Other and type in your pick-up address. Please do enter the number of vehicles needed in the next page. This service comes at the price of 300 CNY per vehicle.
At the end of your ride, we will drop you back at the Bitter Café.
LANGUAGES
We offer rides in different languages. When you send us your booking form you can ask for an Insider who speaks a language other than English.
WHAT IS INCLUDED

Our rides come with knowledgeable Insiders immersed in local culture, characterful vintage vehicles, weather protection and a bunch of gadgets. Rides exclude meals unless specifically mentioned. For legal & safety reasons, you are not allowed to drive a jeep.
EXTRAS
French champagne, private pick ups or special souvenir packs...we do offer a wide array of options to make your experience truly memorable.
REFUND POLICY
In case of a no-show or a cancellation less than 48h before the scheduled departure, you are held responsible for the total amount of your ride.

HELP & QUESTIONS
Visit our help page to find answers to your questions or contact us by email at book@insidersexperience.com.