The Secret Ride - 6h by convertible jeep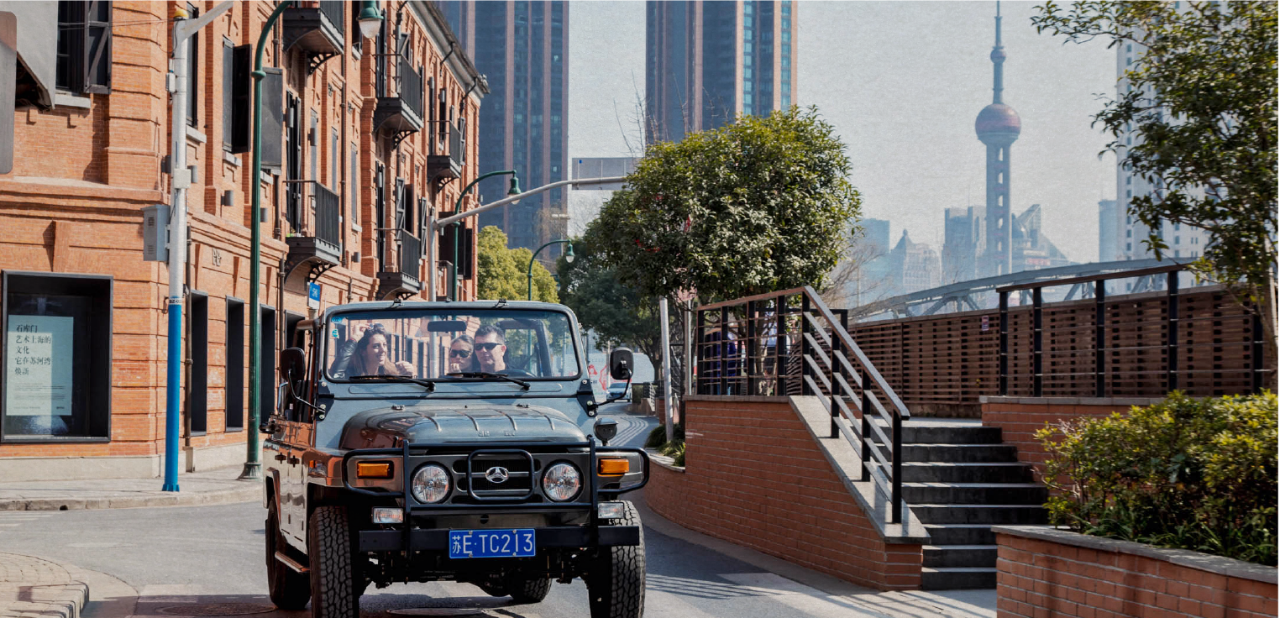 Duration: 6 Hours (approx.)
EACH JEEP CAN WELCOME UP TO 4 PASSENGERS.

From the mansions of the elite in the Former French Concession, to the oldest private residence in Shanghai, you will learn about the incredible history and witness some of Shanghai's most fascinating secret locations all while being zipped around in one of the coolest vehicles on the road: a vintage convertible Jeep. You will also have the opportunity to enjoy a delicious lunch at a virtually unknown temple.

Your ride is tailor-made, off the beaten path and designed according to your level of knowledge of the area and your centers of interests, respectful of the local culture and all inclusive to offer you a memorable experience. Custom rides and multi-day expeditions are also available in China and in Morocco.


CONTACT US If you are trying to book a last minute ride within 24 hours or if you have any questions and just prefer talking to someone. You can email us or you can reach us at +86 138 1761 6975.
-----------
DRIVING
Just follow the lead of your Insider, and expect to spend about 50% of the time driving and 50% exploring on foot. Our convertible jeeps can seat up to 4 passengers from 2 to 99 years old, but for optimal comfort we recommend 3 passengers per jeep.
MEETING POINT
STANDARD MEETING POINT : Our rides start from the Café Bitter in the Former French Concession (Wuyuan Road 58).
CUSTOM MEETING POINT : Click on Other and type in your pick-up address. Please do enter the number of vehicles needed in the next page. This service comes at the price of 300 CNY per vehicle.
At the end of the ride, we will drop you back at the Café Bitter.

LANGUAGES

We offer rides in different languages. When you send us your booking form you can ask for an Insider who speaks a language other than English.
WHAT IS INCLUDED

Our rides are all inclusive. Knowledgeable insiders speaking the local language, sparkling vintage vehicles including gas and parking fees, baby car seat, umbrellas, site entrances, refreshing drinks and a bunch of gadgets. This ride also include a local vegetarian meal and non-alcoholic beverages.
It excludes alcoholic beverages & gratuities.
EXTRAS
French champagne, souvenir kits for kids or adults, instant camera (polaroid) renting or mobile camera boosters (Selfie stick & Lens Set with fish-eye, wide-angle and macro lens)…we do offer a wide array of options to make your ride truly confortable and memorable. Just check it out during the booking process.

REFUND POLICY
In case of a no-show or a cancellation less than 48h before the scheduled departure, you are held responsible for the total amount of your ride.

HELP & QUESTIONS
Visit our help page to find answers to your questions or contact us by email at book@insidersexperience.com.