The Old times Ride - 3h by convertible jeep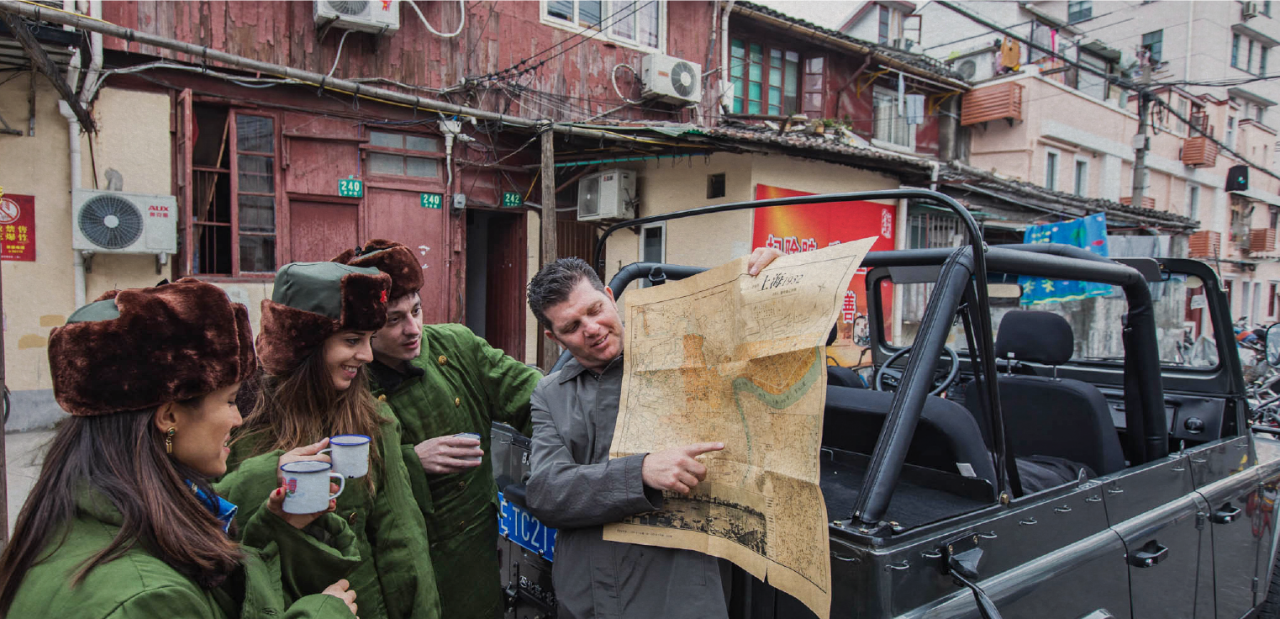 Duration: 3 Hours (approx.)
EACH JEEP CAN WELCOME UP TO 4 PASSENGERS.

Shanghai is the perfect blend of the past meeting the present. Hop on our vintage convertible jeeps for an eye-opening ride in some the most well-preserved neighbourhoods. In the winding alleys of the old town, among the locals still resisting the wave of modernity surrounding them, in the mythic French Concession with its quaint yet charming atmosphere or from the boardwalk on the Bund side with a view on the Pudong skyline, this very unique blend between ancient times and modernity is taking shape before your eyes.

-----------
In the heart of shanghai's Former French Concession, your insider meets you in a relaxed and minimally stylish café, the "Bitter café". Share your expectations and specific requests while your insider introduces you, thanks to an old 1932 map, to both the geography and history of the city and your tailor-made itinerary. Buckle up, put on your sunglasses and start your ride into Shanghai's two most contrasting neighbourhoods, the Former French Concession and the Old town.

From stunning Art Deco buildings, a blue-domed Russian Orthodox Cathedral built in the 1930s, to an impressive 1932 mansion with a view that was once home to Shanghai's most notorious gangster or one of the 33 former Art Deco cinemas used to show movies from the golden age of Hollywood, we take you on an enchanting time-travel in the former French district known as 'the Paris of the East'.

Step in history as you walk into one of the most prominent landmarks erected by the French. Surrounded by mature trees, this former 1926 sports club still features the glittering gold mosaics, polished marble pillars and dramatic staircase that made such an impression when the club first opened.

Discover what a fascinating fast-changing kaleidoscope the city is as you ride east, under huge buildings towering over you, until you reach the Old town's quaint typical winding alleys with its red lanterns and cobblestone streets. Once surrounded by a defensive wall, this unique pocket of true Shanghainese culture still resists the modernity wave to offer in exchange a wave of nostalgia.


Step out of the jeep and amble through these narrow lanes bustling with street-side vendors, women hand-washing sheets in stone laundries, men gutting fish or visiting an open-air barber shop.

Maples, pines, magnolias, birdsong and incense smokes welcome you as you enter a charming retreat dedicated to Confucius. This temple and school dedicated to the worship and teaching of Confucius dates back to the 1800s and also hosts a busy secondhand book market, known as "The Ghost market" every Sunday morning.

Hang a wish tag on a tree before getting back into the frenzy old town. Get to taste Shanghai's delicacies such as xiaolongbao or dumpling, visit a traditional wet market and discover fascinating unrestored buildings, often with historical importance such as the oldest house in Shanghai or our beloved red-star villa.

After this last stop, your insider will take you back to the Bitter Café or any other place in the Former French Concession.

NB: This itinerary is subject to change due to passenger's requests, holidays or weather conditions.
-----------
Your ride is tailor-made, off the beaten path and designed according to your level of knowledge of the area and your centers of interests, respectful of the local culture and all inclusive to offer you a memorable experience. Custom rides and multi-day expeditions are also available in China and in Morocco.


CONTACT US If you are trying to book a last minute ride within 24 hours or if you have any questions and just prefer talking to someone. You can email us or you can reach us at +86 138 1761 6975.
-----------
DRIVING
Just follow the lead of your Insider, and expect to spend about 70% of the time driving and 30% exploring on foot. Our convertible jeeps can seat up to 4 passengers from 2 to 99 years old, but for optimal comfort we recommend 3 passengers per jeep.
MEETING POINT
STANDARD MEETING POINT : Our rides start from the Bitter Café in the Former French Concession (Wuyuan Road 58).
CUSTOM MEETING POINT : Click on Other and type in your pick-up address. Please do enter the number of vehicles needed in the next page. This service comes at the price of 300 CNY per vehicle.
At the end of the ride, we will drop you back at the Café Bitter.

LANGUAGES

We offer rides in different languages. When you send us your booking form you can ask for an Insider who speaks a language other than English.
WHAT IS INCLUDED

Our rides come with knowledgeable Insiders immersed in local culture, characterful vintage vehicles, weather protection and a bunch of gadgets. Rides exclude meals unless specifically mentioned. For legal & safety reasons, you are not allowed to drive a jeep.
EXTRAS
French champagne, private pick ups or special souvenir packs...we do offer a wide array of options to make your experience truly memorable.
REFUND POLICY
In case of a no-show or a cancellation less than 48h before the scheduled departure, you are held responsible for the total amount of your ride.

HELP & QUESTIONS
Visit our help page to find answers to your questions or contact us by email at book@insidersexperience.com.